Vicksburg
Title of Lesson:  The Battle of Vicksburg
Author of Lesson:  Ryan Kaden
Grade Level:  8th
Resources from: 
http://www.gilderlehrman.org/history-by-era/american-civil-war/resources/gen-ulysses-s-grant-siege-vicksburg-1863   This is a copy of a letter from Gen U.S. Grant to Gen S.A. Hurlbut on May 31, 1863
http://www.davidrumsey.com/maps5456.html  This is a US Army map of Vicksburg created for Grant in 1863.
http://www.civilwarwomenblog.com/2008/11/emma-harrison-balfour.html  This site has excerpts from the diary of Emma Balfour, a resident of Vicksburg during the siege. 
http://natchezbelle.org/oldtime/diary.htm  This site has excerpts from the diary of Dora Miller, another resident of Vicksburg during the siege. 
Teacher created notes/PowerPoint
Lesson Summary:  This lesson will combine a bit of lecture with document examination and discussion to discover the importance of Vicksburg in the war and the manner in which it was captured. 
GLEs:  2aH, 1A, 1B
Historical Background:  From 1861 to 1865, the American Civil War tore the nation apart.  It was, and remains, the bloodiest and most costly war in US history.  The war was caused by a number of factors—states' rights, differing economies, abolitionist agitation, the addition of new states—that all trace their way back to slavery.  Before this lesson is taught, the class should cover at least the causes and beginning of the war.  I plan on teaching it after the class studies the Union victory at the Battle of Gettysburg.    
Anticipatory Set—Review with students what they know about the Civil War to this point.  Emphasize causes and the early course of the war. 
Do Now Activity:  Ask students to discuss how long the average person can go without eating before death. 
Procedures:  Use a projected map to brief students on the war in the West—noting the importance of waterways as transportation routes, Grant's victories at Forts Henry and Donelson, Porter's capture of New Orleans, and the North's goal of capturing the Mississippi.  Note that Vicksburg was viewed as key by North and South—share Lincoln and Davis quotes on Vicksburg.  Distribute primary sources—Grant's letter & map, Emma Balfour diary selection, and Dora Miller diary selection.  Have students work in teams to complete the Grant letter, map, & questions.  After discussing the Grant documents, examine the two diaries to get an idea of what the siege was like—if pressed for time, have some groups do the Balfour document and others the Miller document.  Discuss student answers.  End class by emphasizing the consequences of the victory at Vicksburg. 
Assessment:  Discussion participation and written answers to document questions. 
http://www.gilderlehrman.org/history-by-era/american-civil-war/resources/gen-ulysses-s-grant-siege-vicksburg-1863
. . . Vicksburg is so strong by nature and so well fortified that sufficient force cannot be brought to bear against it to carry it by storm against the present Garrison. It must be taken by a regular siege or by starving out the Garrison. I have all the force necessary for this if my rear was not threatened.
It is now certain that Jo Johnston has already collected a force from twenty to twenty-five thousand strong at Jackson & Canton and is using every effort to increase it to forty thousand. With this he will undoubtedly attack Harris Bluff and compell me to abandon the investment of the City if not reinforced before he can get here. I want your District striped to the very lowest possible standard. You can be in no possible danger for the time it will be necessary to keep their troops away. All points in West Tennessee North of the Memphis & Charleston road, if necessary, can be abandoned entirely. West Kentucky may be reduced to a small Garrison at Paducah and Columbus.
If you have not already brought forward the troops to Memphis to send me bring Smith's, formerly Denver's, Division. Add to this all other force you can possibly spare. Send two regiments of Cavalry also. If you have not received the Cavalry last ordered from Helena divert them to this place instead of sending two other regiments. No boat will be permitted to leave Memphis going North until transportation is fully provided for all the troops coming this way. The Quartermaster in charge of transportation and Col. W.S. Hillyer are specially instructed to see that this direction is fully enforced.
The entire rebel force here against me are completely at my mercy. I do not want to see them escape by being reinforced from elsewhere. I hope before this reaches you troops will be already on the way from your command.
Gen. Dodge can spare enough from his force to Garrison Lagrange & Grand Junction.
Very respectfully
U. S. Grant
Maj: Gen.
Grant notes that "so strong by nature."  Examine the map.  It was created for Grant during the Civil War.  What does Grant mean when he says that Vicksburg was "so strong by nature?" 
According to Grant's letter, what does he believe is the only way to capture Vicksburg?
How long do you think it would take to capture a city in this way?
Does Grant believe he can be successful in capturing Vicksburg?
http://www.davidrumsey.com/maps5456.html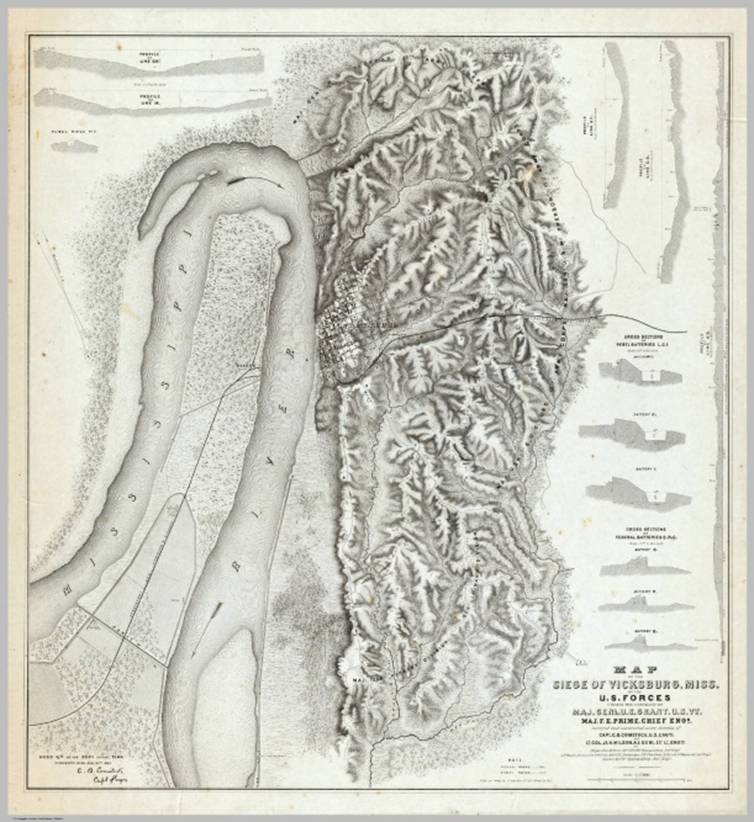 Full Title: Map Of The Siege Of Vicksburg, Miss. By the U.S. Forces Under The Command Of Maj. Genl. U.S. Grant, U.S. Vls. ... Surveyed and constructed under the direction of Capt. C.B. Comstock ... by Major Otto H. Matz ... Chs. Spangenberg ... Drawn by Chs. Spangenberg ... Engr. on stone by J. Schedler No. 120 Pearl St. N.Y. Head Qrs. Of The Dept. Of The Tenn. Vicksburg Miss. Aug. 20th 1863. C.B. Comstock
http://www.civilwarwomenblog.com/2008/11/emma-harrison-balfour.html
Emma Balfour was a member of the upper class in Vicksburg.  Her husband was a successful doctor and she was on close terms with the leading generals.  Her account of events might only reflect the thoughts of the upper class . . . but it gives us a view of the siege. 
Emma made the first entry in her diary on May 16, 1863:
I hope never to witness again such a scene. From twelve o'clock until late in the night, the streets and roads were jammed with wagons, cannons, horses, men, mules, stock, sheep, everything you can imagine that appertains to an army being brought hurriedly within the entrenchment… What is to become of all the living things in this place – God only knows.
As the night passed, the wings of Grant's army encircled the city. The Confederates were locked in, and Grant thought he had them trapped. He ordered a quick assault against the Confederate lines and asked Admiral Porter's support from gunboats in the river. At daybreak the firing began, then welled up to a crescendo.

Emma Balfour described the attack:

About nine o'clock in the morning, the gunboats towed some mortars into range, and there was a rushing into caves... We went into a cave for the first time... Just as we got in several [shells] exploded... just over our heads, and at the same time two riders were killed in the valley below us by a twenty-four pound shell from the east side.

As all this rushed over me and the sense of suffocation from being underground, the certainty that there was no way of escape, that we were hemmed in, caged, for one moment my heart seemed to stand still then my faith and courage rose to meet the emergency, and I have felt prepared ever since and cheerful...
That attack failed and the siege began.  Inside Vicksburg, the people of the town struggled to survive the physical and mental dangers posed by the siege.  Many remained defiant even though hope was rapidly disappearing.  Emma Balfour stated:
The general impression is that they fire at this city, in that way thinking that they will wear out the women and children and sick, and General Pemberton will be impatient to surrender the place on that account, but they little know the spirit of the Vicksburg women and children if they expect this.
Emma Balfour still refused to go into the caves unless she was forced, but a night in her home was no better than a damp, crowded, mosquito infested cave, or so it appears from her diary entry of May 31:
The shelling from the mortars was worse than usual last night... I could hear the pieces falling all around us as the shells would explode, and once I thought our time had come... The mortars [fired] all night. We soon perceived that we could not retire while they fired as they had changed the range, and every shell came either directly over us or just back or front of us, so we made up our minds to sit up and watch, hoping, however, that they would cease about midnight, as they sometimes do... but no, all night it continued to add to the horror.

At 12 o'clock the guns all along the lines opened and the parrot shells flew as thick as hail around us!... We had gone upstairs determined to rest lying down but not sleeping, but when these commenced to come it was not safe upstairs, so we came down in our dining room and lay down upon the bed there, but soon found that would not do as they came from the southeast as well as east and might strike the house.

Still from sheer uneasiness we remained there until a shell struck in the garden against a tree, and at the same time we heard the servants all up and making exclamations. We got up thoroughly worn out and disheartened and after looking to see the damage, went into the parlor and lay on the sofas there until morning, feeling that at any moment a mortar shell might crash through the roof...
How did Emma feel the first time that they had to go into a cave?
Does Emma think the people of Vicksburg are holding up well or badly?  Underline a short quote to prove this. 
What happens on the night of May 31? 
What does Emma feel she can do about the situation? 
http://natchezbelle.org/oldtime/diary.htm
Emma Balfour was not the only woman keeping a diary during the siege.  Dora Miller, the young wife a lawyer, also kept a diary.  Her diary adds another perspective to the dangers and problems faced by the people of Vicksburg during the siege.   
May 28th. - Since that day the regular siege has continued. We are utterly cut off from the world, surrounded by a circle of fire. Would it be wise like the scorpion to sting ourselves to death? The fiery shower of shells goes on day and night. H's occupation, of course, is gone, his office closed. Every man has to carry a pass in his pocket. People do nothing but eat what they can get, sleep when they can, and dodge the shells. There are three intervals when the shelling stops, either for the guns to cool or for the gunner's meals, I suppose, - about eight in the morning, and the same in the evening, and at noon. In that time we have both to prepare and eat ours. Clothing cannot be washed or anything else done. On the 19th and 22d, when the assaults were made on the lines, I watched the soldiers cooking on the green opposite. The half-spent balls coming all the way from those lines were flying so thick that they were obliged to dodge at every turn. At all the caves I could see from my high perch, people were sitting, eating their poor suppers at the cave doors, ready to plunge in again. As the first shell again flew they dived, and not a human being was visible. The sharp crackle of musketry-firing was a strong contrast to the scream of the bombs. I think all the dogs and cats must be killed, or starved, we don't see any more pitiful animals prowling around.
The cellar is so damp and musty the bedding has to be carried out and laid in the sun every day, with the forecast that it may be demolished at any moment. The confinement is dreadful. To sit and listen as if waiting for death in a horrible manner would drive me insane. I don't know what others do, but we read when I am not scribbling in this. H borrowed somewhere a lot of Dickens's novels, and we reread them by the dim light in the cellar. When the shelling abates H goes to walk about a little or get the "Daily Citizen," which is still issuing a tiny sheet at twenty-five and fifty cents a copy. It is, of course, but a rehash of speculations which amuses a half hour. To-day he heard while out that expert swimmers are crossing the Mississippi on logs at night to bring and carry news to Johnston. I am so tired of corn-bread, which I never liked, which I eat it with tears in my eyes. We are lucky to get a quart of milk daily from a family near who have a cow they hourly expect to be killed. I send five dollars to market each morning, and it buys a small piece of mule-meat. Rice and milk is my main food; I can't eat the mule-meat. We boil the rice and eat it cold with milk for supper. Martha runs the gauntlet to buy the meat and milk once a day in a perfect terror. The shells seem to have many different names; I hear the soldiers say, "That's a mortar-shell. There goes a Parrott. That's a rifle-shell." They are all equally terrible. A pair of chimney-swallows have built in the parlor chimney. The concussion of the house often sends down parts of their nest, which they patiently pick up and reascend [sic] with.
0.

 

Describe Dora's desperation of being under siege. What does she mean by the question, "Would it be wise like the scorpion to sting ourselves to death?
1.

 

How does Dora describe the behavior of the people of the city—what are their main concerns and routine?
2.

 

What meal routine did the citizens begin? How was it related to the shelling?
3.

 

Describe Dora's view of the people sitting in front of their caves eating. How did they behave when the shelling began?
4.

 

What was Dora's main diet during this time? Describe her meals and how she felt about eating such strange food as mule meat.
http://natchezbelle.org/oldtime/diary.htm
Emma Balfour was not the only woman keeping a diary during the siege.  Dora Miller, the young wife a lawyer, also kept a diary.  Her diary adds another perspective to the dangers and problems faced by the people of Vicksburg during the siege.   
April 28th. - I never understood before the full force of those questions - What shall we eat? what shall we drink? And [with what] shall we be clothed? We have no prophet of the Lord at whose prayer the meal and oil will not waste. Such minute attention must be given the wardrobe to preserve it that I have learned to darn like an artist. Making shoes is another accomplishment. Mine were in tatters. H cam across a moth-eaten pair that he bought me, giving ten dollars, I think and they fell into rags when I tried to wear them; but the soles were good, and that has helped me to make shoes. A pair of old coat-sleves saved - nothing is thrown away - was in my trunk. I cut an exact pattern from my old shoes, laid it on the sleves, and cut out thus good uppers, and sewed them carefully; then soaked the soles and sewed the cloth to them. I am so proud of these home-made shoes, think I'll put them in a glass case when the war is over, as an heirloom. H says he has come to have an abiding faith that everything he needs to wear will come out of that trunk while the war lasts. It is like a fairy-casket. I have but a dozen pins remaining, so many I gave away. Every time these are used they are straightened and kept from rust. All these curious labors are performed while the shells are leisurely screaming through the air; but as long as we are out of range, we don't worry. For many nights we have had but little sleep, because the Federal gun-boats have been running past the batteries. The uproar when this is happening is phenomenal. The first night the thundering artillery burst the bars of sleep, we thought it an attack by the river. To get into garments and rush upstairs was the work of a moment. From the upper gallery we have a fine view of the river, and soon a red glare lit up the scene and showed a small boat towing two large barges, gliding by. The Confederates had set fire to a house near the bank. Another night, eight boats ran by, throwing a shower of shot, and two burning houses made the river clear as day. One of the batteries has a remarkable gun they call "Whistling Dick," because of the screeching, whistling sound it gives, and certainly it does sound like a tortured thing. Added to all this is the indescribable Confederate yell, which is a soul-harrowing sound to hear. I have gained respect for the mechanism of the human ear, which stands it all without injury. The streets are seldom quiet at night; even the dragging about of cannon makes a din in these echoing gullies. The other night we were on the gallery till the last of the eight boats got by. Next day a friend said to H, "It was a wonder you didn't have your heads taken off last night. I passed and saw them stretched over the gallery, and grape-shot were whizzing up the street just on a level with you." The double roar of batteries and boats was so great, we never noticed the whizzing. Yesterday the Cincinnati attempted to go by n daylight, but was disabled and sunk. It was a pitiful sight; we could not see the finale, though we saw her rendered helpless.
April 28th entry:
♦ What were Dora's main worries about living under siege?
♦ What did she do when her shoes wore out?
♦ Describe Dora's nightly experience with shell explosions and the shore batteries as Yankee gunboats ran past Vicksburg. Did she seem scared, excited, or fascinated?