The Battle of Antietam
Title of Lesson:  The Battle of Antietam
Author of Lesson:  Ryan Kaden
Grade Level:  8th
Lesson Summary:  This lesson will combine a bit of lecture with document examination and discussion to discover the importance of Antietam in the Civil War.  The lesson includes examination of the causes of the battle, the battle itself, and its consequences.    
GLEs:  2aH, 1A, 1B
Historical Background:  From 1861 to 1865, the American Civil War tore the nation apart.  It was, and remains, the bloodiest and most costly war in US history.  The war was caused by a number of factors—states' rights, differing economies, abolitionist agitation, the addition of new states—that all trace their way back to slavery.  Before this lesson is taught, the class should cover at least the causes and beginning of the war. 
Anticipatory Set—Review with students what they know about the Civil War to this point.  Emphasize causes and the early course of the war. 
Procedures:  Break students into groups of three.  Provide each group with a map and list of major battles.  Allow students 10 minutes to plot the battle locations and answer the first five questions.  After groups have finished, discuss as a class.  After establishing some reasons why Lee might have invaded the North, hand out Lee's Proclamation to Maryland.  Have groups read and answer questions.  Then discuss as a group.  Now, there should be two clear reasons Lee invades—to free the South from the armies during harvest and to bring Maryland into the Confederacy.  Additional reasons are also possible.  As Lee invades the North, he splits his army into smaller groups.  Provide students with a copy of Lee's Lost Orders and ask them to speculate about what could/should be done with the orders.  After establishing the fact that a Northern general should be able to beat Lee, share McClellan's quote--"Here is a paper with which, if I cannot whip Bobby Lee, I will be willing to go home" and conduct a brief lecture regarding the course of the Battle of Antietam.  Next, have students examine the Emancipation Proclamation in their small groups.  Allow groups to work ten minutes, then discuss.  Finally, assign the "Fly on the Wall" essay.
Assessment:  Discussion participation and written answers to document questions. 
For years, Union and Confederate soldiers battled during the bloodiest war in American history. Both sides suffered unprecedented casualties, and the severe lack of infrastructure made accurate accounting of those soldiers near impossible.
By definition, military "casualties" include not only the dead, but also the injured, ill, captured, and missing. To this day, exact numbers are impossible to determine, and scholars dispute even the most well-researched estimates. However, these staggering numbers still offer profound insight into the immense tragedy experienced by the American people throughout the Civil War.
 Use the list of major early Civil War battles.  Make a tally mark for each battle in the state that it occurred.
Where did most of the early fighting take place?
What did the majority of Americans do for a living in this time period?
What job would they have begun doing in September of 1862?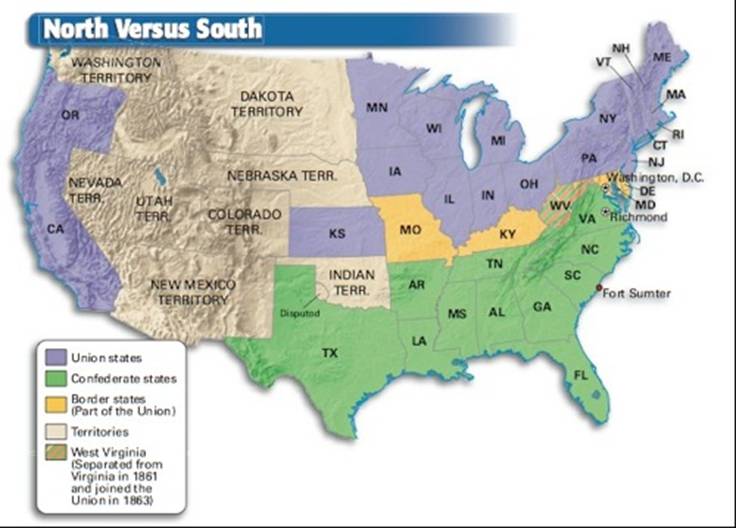 Based on this map and your thinking, why did Robert E. Lee invade the North in 1862?
Battle of Fort Sumter (S. Carolina)
April 12, 1861: Battle of Fort Sumter
Casualties: none
June 30, 1861: Battle of Philippi (W. Virginia)
Casualties: 30
4 Union
26 Confederate
July 21, 1861: First Battle of Bull Run/First Battle of Manassas (Virginia)
Casualties: 4,700
2,950 Union
1,750 Confederate
August 28-29, 1861: Battle of Hatteras Inlet Batteries (N. Carolina)
Casualties: 773
3 Union
770 Confederate
October 21, 1861: Battle of Ball's Bluff (Virginia)
Casualties: 1,070
921 Union
149 Confederate
November 7, 1861: Battle of Belmont (Missouri)
Casualties: 1,464
498 Union
966 Confederate
January 19, 1862: Battle of Mill Springs (Kentucky)
Casualties: 671
232 Union
439 Confederate
February 6, 1862: Battle of Fort Henry (Tennessee)
Casualties: 119
40 Union
79 Confederate
February 11, 1862: Battle of Fort Donelson (Tennessee)
Casualties: 17,398
2,331 Union
15,067 Confederate
March 8, 1862: Battle of Hampton Roads (Virginia)
Casualties: 433
409 Union
24 Confederate
March 23, 1862: First Battle of Kernstown (Virginia)
Casualties: 1,308
590 Union
718 Confederate
April 5, 1862: Siege of Yorktown (Virginia)
Casualties: 320
April 6-7, 1862: Battle of Shiloh (Tennessee)
Casualties: 23,741
13,047 Union
10,694 Confederate
April 10-11, 1862: Battle of Fort Pulaski (Georgia)
Casualties: 365
1 Union
364 Confederate
April 25, 1862: Capture of New Orleans (Louisiana)
Casualties: None
May 31, 1862: Battle of Seven Pines (Virginia)
Casualties: 13,736
5,739 Union
7,997 Confederate
June 6, 1862: Battle of Memphis (Tennessee)
Casualties: 181
1 Union
180 Confederate
June 26, 1862: Battle of Beaver Dam Creek (Virginia)
Casualties: 1,700
400 Union
1,300 Confederate
June 27, 1862: Battle of Gaines' Mill (Virginia)
Casualties: 15,500
6,800 Union
8,700 Confederate
June 30, 1862: Battle of Glendale (Virginia)
Casualties: Undetermined
July 1, 1862: Battle of Malvern Hill (Virginia)
Casualties: 8,500
August 9, 1862: Battle of Cedar Mountain (Virginia)
Casualties: 2,707
1,400 Union
1,307 Confederate
August 28-30, 1862: Second Battle of Bull Run/Second Battle of Manassas (Virginia)
Casualties: 22,180
13,830 Union
8,350 Confederate
September 1, 1862: Battle of Chantilly (Virginia)
Casualties: 2,100
1,300 Union
800 Confederate
September 14, 1862: Battle of South Mountain (Maryland)
Casualties: 4,500
Proclamation to the People of Maryland
To the People of Maryland:
Headquarters Army N. Virginia
Near Fredericktown, 8th September, 1862
It is right that you should know the purpose that brought the Army under my command within the limits of your State, so far as that purpose concerns yourselves.  The People of the Confederate States have long watched with the deepest sympathy the wrongs and outrages that have been inflicted upon the citizens of a Commonwealth, allied to the States of the South by the strongest social, political and commercial ties.  They have seen with profound indignation their sister State deprived of every right, and reduced to the condition of a conquered Province.  Under the pretense of supporting the Constitution, but in violation of its most valuable provisions, your citizens have been arrested and imprisoned upon no charge, and contrary to all forms of law; the faithful and manly protest against this outrage made by the venerable and illustrious Marylanders to whom in better days, no citizens appealed for right in vain, was treated with scorn and contempt; the government
of your chief city has been usurped by armed strangers; your legislature has been dissolved by the
unlawful arrest of its members; freedom of the press and of speech, of the Federal Executive, and
citizens ordered to be tried by a military commission for what they may dare to speak. 
Believing that the People of Maryland possessed a spirit too lofty to submit to such a government, the people of the south have long wished to aid you in throwing off this foreign yoke, to enable you to again enjoy the inalienable rights of free men, and restore independence and sovereignty to your State.  In obedience to this wish, our Army has come among you, and is prepared to assist you with the power of its arms in regaining the rights of which you have been despoiled.  This, Citizens of Maryland, is our mission, so far as you are concerned.  No constraint upon your free will is intended, no intimidation is allowed.
Within the limits of this Army, at least, Marylanders shall once more enjoy their ancient freedom of
thought and speech.  We know no enemies among you, and will protect all of every opinion.  It is for you to decide your destiny, freely and without constraint.  This army will respect your choice whatever it may be, and while the Southern people will rejoice to welcome you to your natural position among them, they will only welcome you when you come of your own free will.
R. E. Lee, General Commanding
1) Who wrote this document? What is its purpose?
2)  How has the Federal Army treated Maryland? 
3)  How will the Confederates treat Maryland? 
4) Based on this document, what do you think the Confederates hoping to gain by invading Maryland in 1862?
Confederate Special Orders #191
September 9th, 1862
The Army will resume its march to-morrow, taking the Hagerstown road. General Jackson's command
will form the advance, and after passing Middletown, with such portions as he may select, take the route toward Sharpsburg, cross the Potomac at the most convenient point, and by Friday night take possession of the Baltimore and Ohio Railroad, capture such of the enemy as may be at Martinsburg, and intercept such as may attempt to escape from Harper's Ferry.
General Longstreeet's command will pursue the same road as far as Boonsboro', where it will halt
with the reserve, supply, and baggage trains of the army.
General McLaws with his own division and that of General R.H. Anderson, will follow General
Longstreet; on reaching Middletown he will take the route to Harper's Ferry, and by Friday morning
possess himself of the Maryland Heights and endeavor to capture the enemy at Harper's Ferry and
vicinity.
General Walker, with his division after accomplishing the object in which he is now engaged, will
cross the Potomac at Check's ford, ascend its right bank to Lovettsville, take possession of Loudoun
Heights, if practicable, by Friday morning, Keyes's ford on his left, and the road between the end of the mountain and the Potomac on his right. He will, as far as practicable, cooperate with General McLaws and General Jackson in intercepting the retreat of the enemy.  General D.H. Hill's division will form the rearguard of the army, pursuing the road taken by the main body. The reserve artillery, ordnance, and supply trains, etc., will precede General Hill.
General Stuart will detach a squadron of cavalry to accompany the commands of Generals Longstreet, Jackson , and McLaws, and, with the main body of the cavalry, will cover the route of the
army and bring up all stragglers that may have been left behind.
The commands of Generals Jackson, McLaws, and Walker, after accomplishing the objects for which
they have been detached, will join the main body of the army at Boonsboro' or Hagerstown.
Each regiment of the march will habitually carry its axes in the regimental ordinance-wagons, for use
of the men at their encampments, to procure wood, etc.
By command of General R.E. Lee
Who was this document written by?
What is this document?
What is the purpose of this document?
In general, what is the document ordering the Confederate Army to do?
Imagine you are a Union General who had this information—what should you be able to do? 
The Emancipation Proclamation (Modified)
On the first day of January, in the year of our Lord one thousand eight hundred and sixty-three, all persons held as slaves within any State in rebellion against the United States, shall be forever free. . .
Now, therefore I, Abraham Lincoln, President of the United States, by virtue of the power in me vested as Commander-in-Chief, of the Army and Navy of the United States . . . do order and designate [appoint] the following States as being in rebellion:  Arkansas, Texas, Louisiana, Mississippi, Alabama, Florida, Georgia, South Carolina, North Carolina, and Virginia.
And I hereby call upon the people so declared to be free to abstain from all violence, unless in necessary self-defense; and I recommend to them that, in all cases when allowed, they labor faithfully for reasonable wages.
And I further declare and make known, that these freed persons will be received into the armed service of the United States.  And upon this act, sincerely believed to be an act of justice, warranted by the Constitution, upon military necessity, I invoke the considerate judgment of mankind, and the gracious favor of Almighty God. 
By the President: ABRAHAM LINCOLN
Emancipation Proclamation
 The Civil War ended in 1865. Why did Lincoln decide to free the slaves before the war even ended?
In the Emancipation Proclamation, Lincoln does not mention Delaware, Kentucky, Maryland, and Missouri. These states had slaves but were not part of the Confederacy (they were not fighting against the Union). What happens to the slaves in these states?
Why do you think he calls the act a "military necessity" in the last section?
 How did the Emancipation Proclamation help the North win the war? 

The Battle of Antietam occurred on September 17, 1862.  It was a ____________________ victory.  On September 22 of
that year, Lincoln issued the _____________________________________.  That document freed __________________
_________________________________________________________________________________________________.   
In October, President Lincoln met with General McClellan at his Antietam camp, shortly after the battle.  McClellan and Lincoln often did not agree about how best to fight and win the Civil War.  Your job in this assignment will be to imagine that you are a fly on the wall of the tent in the photograph.  You will be writing a transcript of the conversation that you are eavesdropping on.  Your conversation should include Lincoln & McClellan's discussion of (1) the outcome of the battle including secret orders # 191, (2) the Emancipation Proclamation—what did it do, what did it not do, how did it help the North win, (3) a recommendation from Lincoln to McClellan about what to do next
Part 1—4-5 POINTS  conversation correctly DESCRIBES/EXPLAINS the outcome of the battle
1-3 POINTS conversation only LISTS the outcome of the battle
0 POINTS conversation incorrectly REPORTS the outcome of the battle
Part 2—7-8 POINTS  Conversation EXPLAINS two major consequences of the Emancipation Proclamation
3-6 POINTS Conversation correctly EXPLAINS only one reason
0-2 POINTS Conversation is missing all or most of the explanations
Part 3—3 POINTS conversation includes advice that Lincoln would have given McClellan
1-2 POINTS advice is present but is partially incorrect
0 POINTS advice is missing or incorrect