Segregation in the Schools
Lesson Plan Civil Rights
By Jeanne Sneddon
Objectives:
SS1 1.5, 1.6, 1.10, 3.5
SS3 1.6, 1.9
SS7 1.5, 1.7, 3.5, 3.6
Anticipatory Set: Discussion: What is an image that is indelibly etched into a memory?
Lesson Introduction: PowerPoint presentation of Segregation in the Schools to provide background information about Civil Rights issues.
Student Inquiry: Students will view images and documents to gain multiple perspectives of the Civil Rights movement utilizing the Image Analysis Worksheet.
Focus questions: What were the images of the Civil Rights movement in the 1960s? What was the reaction to these images? What role did the images play in advancing the Civil Rights movement?
Procedures:
Divide the class into two groups. Group 1 will be given the picture of Elizabeth Eckford and Group 2 will be given the picture of Martin Luther King, Jr.

Using the Photo Analysis Worksheet, individuals in each group will complete questions 1-3.

Group 1 will be given the documents #4, 5, 6 to read. Group 2 will be given the documents #1, 2, 3 to read.

Student will then complete questions 4-9 on the Photo Analysis Worksheet.

As a whole class, the two photographs will be compared. Discussion points: Describe the scene and the figures in each image. What are the similarities and differences? Compare the setting of each image. How does the setting contribute to the meaning of the image? Describe the mood of each work. How did the photographer achieve that mood? Each photograph is about an event during the Civil Rights Movement in the United States. How does the photographer want the viewer to feel about the main subject? Support your opinion.
Assessment: Each student in the class will write a friendly letter based on the document information and the photo analysis worksheet to either Elizabeth Eckford or Martin Luther King, Jr.  The letter should contain these parts:
The Heading—Address and date
The Salutation or Greeting
Body of the Letter—the message you want to send
Closing and student signature
Teacher Notes: Two of the most enduring images of the Civil Rights Movement are of Elizabeth Eckford and Martin Luther King, Jr. during the March on Washington.
In the iconic photo of Elizabeth, she is being harassed and taunted by a group of white students, parents, and police on her way to desegregate Central High School in Little Rock, Arkansas. On that morning Eckford missed connecting with the eight other African American students of the Little Rock Nine and their NAACP leader, Daisy Bates. Eckford was alone when the angry crowd surrounded and confronted her. Eckford's dignity, strength, and self-possession are stunning counterpoint to the contorted, hate-filled faces of those following her.
"The historic March on Washington for Jobs and Freedom was a collaborative effort by the major civil rights groups and icons of the day, including A. Phillip Randolph, the renowned labor leader who originally conceived of such a march, and Roy Wilkins, Executive Secretary of the NAACP. Feeding off of a rapidly growing tide of grassroots support and outrage over the nation's racial inequities, the rally drew over 260,000 people from across the nation. King's celebrated speech, "I Have a Dream", was carried live by television stations across the country. "I Have a Dream" is remembered as one of the greatest, if not the greatest, speech of the 20th century." http://www.naacp.org/pages/king?source=BSDAds_GoogleSearch_Martin%20Luther%20King_Name_Martin%20Luther%20King%20Jr_Exact_6229496833&gclid=COj03qzYhqoCFQFubAodDgLXzw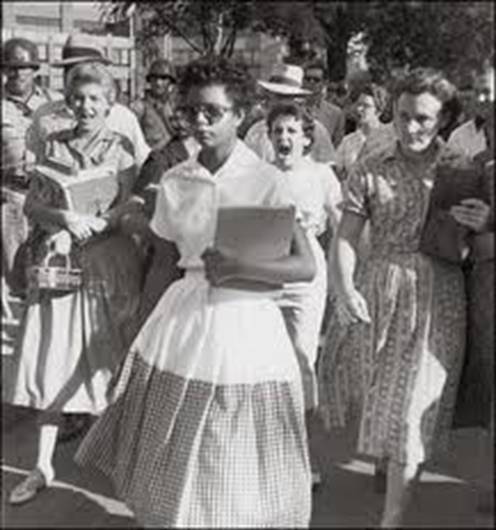 http://1.bp.blogspot.com/_ouPoNevcJ1I/SmDobxzLJiI/AAAAAAAAAag/ImDyps8JsnE/s400/LittleRock.jpg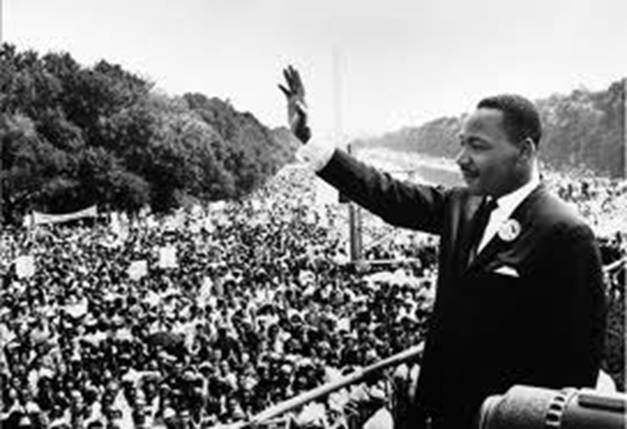 http://www.google.com/search?hl=en&q=martin+luther+king+jr&bav=on.2,or.r_gc.r_pw.&biw=1280&bih=678&um=1&ie=UTF-8&tbm=isch&source=og&sa=N&tab=wi#um=1&hl=en&tbm=isch&sa=1&q=martin+luther+king+jr+i+have+a+dream+speech&oq=martin+luther+king+jr+I&aq=1&aqi=g10&aql=&gs_sm=c&gs_upl=98105l98798l0l101442l2l2l0l0l0l0l251l443l0.1.1l2&bav=on.2,or.r_gc.r_pw.&fp=dad7f26ad6ace61&biw=1280&bih=678
Document #1—Dr. Martin Luther King, Jr. message about Little Rock situation. (Will need to print from the following PDF document link.)
http://mlk-kpp01.stanford.edu/kingweb/liberation_curriculum/pdfs/570926-004.pdf
Document #2—March on Washington (Will need to print from the following PDF document link.)
http://mlk-kpp01.stanford.edu/primarydocuments/630800-009.pdf
Document #3—I Have a Dream Speech
http://www.crmvet.org/info/mowmlk.htm
Document #4 Congressional Medal Little Rock Nine
http://www.centralhigh57.org/news.htm#Racial
Document #5 "Life if more than a Moment"
http://www.iuinfo.indiana.edu/HomePages/102299/text/counts.htm
Document #6 Excerpt from Warriors Don't Cry by Melba Pattillo Beals
Document #3
I Have a Dream
~Martin Luther King
I am happy to join with you today in what will go down in history as the greatest demonstration for freedom in the history of our nation.
Five score years ago, a great American, in whose symbolic shadow we stand today, signed the Emancipation Proclamation. This momentous decree came as a great beacon light of hope to millions of Negro slaves, who had been seared in the flames of withering injustice. It came as a joyous daybreak to end the long night of their captivity.
But one hundred years later, the Negro still is not free. One hundred years later, the life of the Negro is still sadly crippled by the manacles of segregation and the chains of discrimination. One hundred years later, the Negro lives on a lonely island of poverty in the midst of a vast ocean of material prosperity. One hundred years later, the Negro is still languished in the corners of American society and finds himself an exile in his own land. And so we've come here today to dramatize a shameful condition.
In a sense we have come to our nation's capital to cash a check. When the architects of our republic wrote the magnificent words of the Constitution and the Declaration of Independence, they were signing a promissory note to which every American was to fall heir. This note was a promise that all men, yes, black men as well as white men, would be guaranteed the unalienable rights of life, liberty, and the pursuit of happiness. It is obvious today that America has defaulted on this promissory note, insofar as her citizens of color are concerned. Instead of honoring this sacred obligation, America has given the Negro people a bad check, a check which has come back marked "insufficient funds."
But we refuse to believe that the bank of justice is bankrupt. We refuse to believe that there are insufficient funds in the great vaults of opportunity of this nation. And so we have come to cash this check, a check that will give us upon demand the riches of freedom and the security of justice.
We have also come to this hallowed spot to remind America of the fierce urgency of Now. This is no time to engage in the luxury of cooling off or to take the tranquilizing drug of gradualism. Now is the time to make real the promises of democracy. Now is the time to rise from the dark and desolate valley of segregation to the sunlit path of racial justice. Now is the time to lift our nation from the quicksands of racial injustice to the solid rock of brotherhood. Now is the time to make justice a reality for all of God's children.
It would be fatal for the nation to overlook the urgency of the moment. This sweltering summer of the Negro's legitimate discontent will not pass until there is an invigorating autumn of freedom and equality. Nineteen sixty-three is not an end but a beginning. Those who hope that the Negro needed to blow off steam and will now be content will have a rude awakening if the nation returns to business as usual. There will be neither rest nor tranquility in America until the Negro is granted his citizenship rights. The whirlwinds of revolt will continue to shake the foundations of our nation until the bright day of justice emerges.
But there is something that I must say to my people who stand on the warm threshold which leads into the palace of justice. In the process of gaining our rightful place we must not be guilty of wrongful deeds. Let us not seek to satisfy our thirst for freedom by drinking from the cup of bitterness and hatred. We must ever conduct our struggle on the high plane of dignity and discipline. We must not allow our creative protest to degenerate into physical violence. Again and again we must rise to the majestic heights of meeting physical force with soul force.
The marvelous new militancy which has engulfed the Negro community must not lead us to a distrust of all white people, for many of our white brothers, as evidenced by their presence here today, have come to realize that their destiny is tied up with our destiny. And they have come to realize that their freedom is inextricably bound to our freedom. We cannot walk alone.
And as we walk, we must make the pledge that we shall always march ahead. We cannot turn back. There are those who are asking the devotees of civil rights, "When will you be satisfied?" We can never be satisfied as long as the Negro is the victim of the unspeakable horrors of police brutality. We can never be satisfied as long as our bodies, heavy with the fatigue of travel, cannot gain lodging in the motels of the highways and the hotels of the cities. We cannot be satisfied as long as a Negro in Mississippi cannot vote and a Negro in New York believes he has nothing for which to vote. No, no, we are not satisfied and we will not be satisfied until justice rolls down like waters and righteousness like a mighty stream.
I am not unmindful that some of you have come here out of great trials and tribulations. Some of you have come fresh from narrow jail cells. Some of you have come from areas where your quest for freedom left you battered by the storms of persecutions and staggered by the winds of police brutality. You have been the veterans of creative suffering. Continue to work with the faith that unearned suffering is redemptive. Go back to Mississippi, go back to Alabama, go back to South Carolina, go back to Georgia, go back to Louisiana, go back to the slums and ghettos of our northern cities, knowing that somehow this situation can and will be changed. Let us not wallow in the valley of despair, I say to you today, my friends. And so even though we face the difficulties of today and tomorrow, I still have a dream. It is a dream deeply rooted in the American dream.
I have a dream that one day this nation will rise up and live out the true meaning of its creed: We hold these truths to be self-evident that all men are created equal.
I have a dream that one day on the red hills of Georgia the sons of former slaves and the sons of former slave owners will be able to sit down together at the table of brotherhood.
I have a dream that one day even the state of Mississippi, a state sweltering with the heat of injustice, sweltering with the heat of oppression, will be transformed into an oasis of freedom and justice.
I have a dream that my four little children will one day live in a nation where they will not be judged by the color of their skin but by the content of their character. I have a dream today!
I have a dream that one day, down in Alabama, with its vicious racists, with its governor having his lips dripping with the words of interposition and nullification; one day right down in Alabama little black boys and black girls will be able to join hands with little white boys and white girls as sisters and brothers. I have a dream today!
I have a dream that one day every valley shall be exalted, and every hill and mountain shall be made low, the rough places will be made plain, and the crooked places will be made straight, and the glory of the Lord shall be revealed and all flesh shall see it together.
This is our hope. This is the faith that I will go back to the South with. With this faith we will be able to hew out of the mountain of despair a stone of hope. With this faith we will be able to transform the jangling discords of our nation into a beautiful symphony of brotherhood. With this faith we will be able to work together, to pray together, to struggle together, to go to jail together, to stand up for freedom together, knowing that we will be free one day. And this will be the day, this will be the day when all of God's children will be able to sing with new meaning, "My country 'tis of thee, sweet land of liberty, of thee I sing. Land where my fathers died, land of the Pilgrim's pride, from every mountainside, let freedom ring!" And if America is to be a great nation, this must become true.
And so let freedom ring — from the prodigious hilltops of New Hampshire.
Let freedom ring — from the mighty mountains of New York.
Let freedom ring — from the heightening Alleghenies of Pennsylvania.
Let freedom ring — from the snow-capped Rockies of Colorado.
Let freedom ring — from the curvaceous slopes of California.
But not only that.
Let freedom ring — from Stone Mountain of Georgia.
Let freedom ring — from Lookout Mountain of Tennessee.
Let freedom ring — from every hill and molehill of Mississippi, from every mountainside, let freedom ring!
And when this happens, when we allow freedom to ring, when we let it ring from every village and every hamlet, from every state and every city, we will be able to speed up that day when all of God's children, black men and white men, Jews and Gentiles, Protestants and Catholics, will be able to join hands and sing in the words of the old Negro spiritual,
"Free at last, free at last.
Thank God Almighty, we are free at last."
Document #4
October 9, 1997
BUMPERS ASKS AWARD OF CONGRESSIONAL GOLD MEDAL
TO THE "LITTLE ROCK NINE"
WASHINGTON -- U.S. Sen. Dale Bumpers (D-AR) Thursday asked the Senate to award the Congressional Gold Medal to the nine students who courageously integrated Little Rock Central High School in 1957.
"Sometimes we worry that there are no heroes in our country today, no one for our children to look up to, no one to inspire us to be our best selves. But two weeks ago, we saw a vivid reminder that there are still heroes among us. The Little Rock Nine returned to Little Rock Central High School to stride again through its doors. This time those doors were held open by the Governor of Arkansas and the President of the United States," Bumpers said in a statement accompanying his bill to award the nine students the Congressional Gold Medal.
The nine students were Jean Brown Trickey, Carlotta Walls LaNier, Melba Patillo Beals, Terrence Roberts, Gloria Ray Karlmark, Thelma Mothershed Wair, Ernest Green, Elizabeth Eckford and Jefferson Thomas.
"On a fall day in 1957, these nine Americans were teenagers, children really, and they marched up the steps of Little Rock Central High School, young black teenagers amid a crowd of angry white people who despised them for presuming to attend a public school in their own home town. They marched up those steps with a cool courage that inspires awe to this day, no matter how often we see the grainy newsreels," Bumpers said.
"In 1957, Little Rock was not a big city but for a few days it became the center of the world. Arkansas was not the most staunchly segregationist state in the South, but politics, history and fear conspired to make it the crucible for the authority of Brown v. Board of Education. Through that storm of controversy marched these nine young people, frightened but dignified, sensing they were helping overcome a profound obstacle," Bumpers said.
"They were opposed by the governor, by most every local leader, by their peers and by a fully armed unit of the National Guard. They were able to enter the school only when President Eisenhower ordered in units of an Airborne division to escort them and enforce the order of the Supreme Court. But it was not the power of the soldiers or the authority of the law that won the day. It was the grace and courage of those nine young people," Bumpers said. "Today, even those that jeered acknowledge they were impressed and moved by the courage of those nine kids. The images of those days in Little Rock and the extraordinary lives led by these nine sons and daughters of Arkansas are proud symbols of the progress we have made in America and a solemn reminder of the progress we have yet to make."
"Their grace and courage prevailed that day and has inspired us for 40 years. They deserve our thanks and admiration. They deserve a medal. We should present those nine heroes of Little Rock with the Congressional Gold Medal as a permanent remembrance of their unforgettable moment of courage. I hope all of my colleagues will cosponsor this bill and see that it quickly becomes law," Bumpers said.
Bumpers, a member of the Senate Appropriations Committee, secured $150,000 in the Interior Appropriations Bill for a feasibility study on making Little Rock Central High a national historic site in the U.S. National Park System. 
In the bill, Bumpers also secured $50,000 for a similar study for Charleston, Ark., which in 1954 was the first locality in the South to integrate its schools after the Brown v. Board of Education decision. A Charleston native, Bumpers helped lead that historic effort as the town attorney and a member of the Charleston school board.
U.S. Rep. Bennie Thompson (D-MS) has introduced a similar bill in the House of Representatives.
http://www.centralhigh57.org/news.htm#Racial
Document #5
'Life is more than a moment'
Once adversaries, 'Little Rock two' to bring message of racial reconciliation to IUB campus
By Jayne Spencer 
On Labor Day 1957, photojournalist Will Counts was on the scene when a young black woman named Elizabeth Eckford, textbooks in arms, made her way through a hostile crowd at Little Rock, Ark., Central High School. Behind her, a young white woman named Hazel Bryan shrieked with disdain.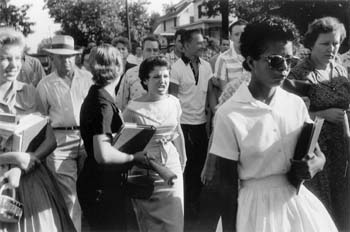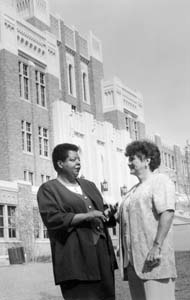 Will Counts' 1957 photograph of Elizabeth Eckford (upper frame, foreground) is one of the 100 top photographs of the century, according to the Associated Press. Counts photographed Eckford and her former tormenter, Hazel Bryan Massery (at left, in front of Little Rock's Central High School) at the 40th anniversary of the school desegregation effort. The two women will speak at IUB Monday.
The 15-year-old Eckford had just been turned away by Arkansas National Guardsmen after she attempted to enroll at the all white high school. Counts snapped the photograph.
The image of the two young women is now considered one of the top 100 photographs of the century by the Associated Press.
And it was Counts, a professor emeritus of journalism at Indiana University, who arranged for the two to meet face to face for the first time.
The occasion was the 40th anniversary commemoration of the desegregation of Little Rock's Central High, an event that Counts once again documented on film. President Bill Clinton and Arkansas Gov. Mike Huckabee symbolically opened the doors of Central High to the original "Little Rock Nine," the courageous teenagers who had withstood the racial hatred of the times to desegregate the school.
Years before the anniversary meeting, Hazel Bryan Massery had called Eckford to apologize for her actions in 1957. Massery said she had felt like "the poster child for the hate generation, trapped in the image captured in the photograph...and I (knew) that my life was more than a moment."
Eckford and Massery will take to the stage of Whittenberger Auditorium at the Indiana Memorial Union in Bloomington, Monday (Oct. 25) at 7 p.m. for a public appearance, preceded by a short presentation by Counts. The two will be meeting with journalism classes, Wells Scholars and those involved in the Minority Achievers Program during their visit.
Both women still live in Little Rock, Eckford in the family home where she lived in high school, only blocks from where Counts, a Little Rock native himself, had lived. Eckford and Massery have attended a workshop on racial healing together and have made joint public appearances to sign a poster featuring Counts' photograph of their reconciliation.
Counts had been with the Arkansas Democrat for only three months on Labor Day 1957. Dressed in a "blend-in" flannel shirt and armed with his beloved 35mm camera, he was able to move freely through the crowds and was accepted as a native son—unlike the three Life magazine staffers who were attacked by the mob and arrested by the police. His photographs were runners-up for the Pulitzer Prize that year.
A Life Is More Than a Moment: The Desegregation of Little Rock's Central Highrecently has been published by the IU Press and contains many of the 1957 photographs, as well as recent photographs of many of the protagonists of the earlier shots. Counts' work is supplemented with essays by journalists Robert McCord and Ernest Dumas, with an introduction by the Rev. Will Campbell, one of the ministers who walked with the black students as they attempted to enter the high school.
http://www.iuinfo.indiana.edu/HomePages/102299/text/counts.htm
Document #6
Excerpt from Warriors Don't Cry by Melba Pattillo Beals
            "Not long before the end of the school day, I entered a dimly lit rest room. The three girls standing near the door seemed to ignore me. Their passive, silent, almost pleasant greeting made me uncomfortable, and the more I thought about their attitude, the more it concerned me. At least when students were treating me harshly, I knew what to expect.
            Once inside the stall, I was even more alarmed at all the movement, the feet shuffling, the voice whispering. It sounded as though more people were entering the room.
            "Bombs away!" someone shouted above me. I looked up to see a flaming paper wad coming right down on me. Girls were leaning over the top of the stalls on either side of me. Flaming paper floated down and landed on my hair and shoulders. I jumped up, trying to pull myself together and at the same time duck the flames and stamp them out. I brushed the singeing ashes away from my face as I frantically grabbed for the door to open it.
            "Help!" I shouted. "Help!" The door wouldn't open. Someone was holding it—someone strong, perhaps more than one person. I was trapped.
            "Did you think we were gonna let niggers use our toilets? We'll burn you alive, girl," a voice shouted through the door. "There won't be enough of you left to worry about."
            I felt the kind of panic that stopped me from thinking clearly. My right arm was singed. The flaming wads of paper were coming at me faster and faster. I could feel my chest muscles tightening. I felt as though I would die any moment. The more I yelled for help, the more I inhaled smoke and the more I coughed.
            Please, God, help me, I silently implored. I had to hurry. I might not be able to swat the next one and put it out with my hands. Then what? Would my hair catch fire? I had to stop them. I picked up my books and tossed one upward as hard as I could, In a blind aim to hit my attackers.
            I heard a big thud, then a voice cry out in pain and several people scuffle about. I tossed another and then another book as fast and hard as I could. One more of their number cursed at me. I had hit my target.
            "Let's get out of here," someone shouted as the group hurried out the door. In a flash, I leaped out of the stall, trying to find my things. I decided I wouldn't even bother reporting my problem. I just wanted to go home. I didn't care that I smelled of smoke or that my blouse was singed. Later when my friends asked what happened, I didn't even bother to explain.
            The experiment of doing without the 101st had apparently been a fiasco. By the end of the day more than one of us had heard talked that the 101st had been brought back.
            Still, despite all our complaints, there were a few students who tried to reach out to us with smiles or offers to sit at our cafeteria tables: some even accompanied us along the halls. Each of us noticed, however, that those instances of friendship were shrinking rather than growing. There was no doubt that the hard-core troublemakers were increasing their activities, and without the men of the 101st, they increased a hundredfold."  (pgs. 119-120)
Image Analysis Worksheet
Observation.

What do you see in this image? Study the image and discuss it in your group. Use the chart below to list people, objects, and activities that you observe in the image.
People                                    Objects                         Activities
Inference.

Make some reasonable guesses about this photograph. When would you guess, was the photograph taken? Why are the people here, doing what they are doing? Why was this photograph taken, would you guess?
Inquiry.

Write a question that is left unanswered by this photograph.
After you have read some background information on the photograph, review your answers to the questions in #2.
Do you think that the photographer has a message beyond simply documenting the moment? If so, what might the message have been?
What would be a good title for the photograph?
Write a question that you would like to ask the people in the photograph.
Write a question that you would like to ask the photographer.
How does the photograph make you feel?